Cosmos Latinos: An Anthology of Science Fiction from Latin America and Spain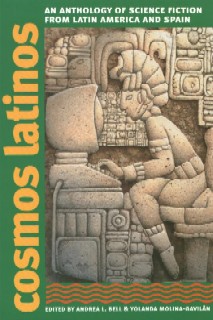 Autor:

Titulo

Cosmos Latinos: An Anthology of Science Fiction from Latin America and Spain

.

Lugar de publicación, Editorial y Fecha:

USA

,

Wesleyan University Press

, .
Opening a window onto a fascinating new world for English-speaking readers, this anthology offers popular and influential stories from over ten countries, chronologically ranging from 1862 to the present. Latin America and Spanish science fiction shares many thematic and stylistic elements with Anglophone science fiction, but there are important differences: many downplay scientific plausibility, and others show the influence of the region's celebrated literary fantastic. In the 27 selections included in this anthology, a sixteenth-century conquistador becomes the unwitting pawn of an astronaut; government agents travel through time to stop terrorists from altering history; a Mexican factory worker is addicted to pleasure-giving bio-implants; and a man fleeing nationalist hysteria seeks refuge in a spaceship. The introduction to the anthology examines the ways the genre has developed in Latin America and Spain since the 1700s and studies science fiction as a means of defamiliarizing, and then critiquing, regional culture, history and politics -especially in times of censorship and political repression. The volume also includes a brief introduction to each story and its author, and an extensive bibliography of primary and secondary works. Cosmos Latinos is a critical contribution to Latin American, Spanish, popular culture and science fiction studies and will be stimulating reading for anyone who likes a good story.
Índice
El remoto porvenir
Juan Nepomuceno Adorno
En el planeta Marte
Nilo María Fabra
Mecanópolis
Miguel De Unamuno
El astro de la muerte
Ernesto Silva Román
Baby H. P.
Juan José Arreola
El Cosmonauta
Ángel Arango
O copo de Cristal
Jerónimo Monteiro
Una cuerda de nylon y oro
Álvaro Menén Desleal
Acronia
Pablo Capanna
El útimo reducto
Eduardo Goligorsky
Post bum-bum
Alberto Vanasco
Gu Ta Gutarrak Nosotros y los Nuestros
Magdalena Mouján Otaño
Futuro
Luis Britto García
Cuando Pilato se opuso
Hugo Correa
El Falsificador
José B. Adolph
Los embriones del violeta
Angélica Gorodischer
Traplante de Cérebro
André Carneiro
La Anunciación
Daína Chaviano
Un error de cálculo
Federico Schaffler
Stuntmind
Braulio Tavares
Llegar a la orilla
Guillermo Lavín
Estreno
Elia Barceló
Ruido Gris
Pepe Rojo
Destellos en vidrio azul
Mauricio José Schwarz
Exerión
Pablo Castro
Como tuvieron que morir las rosas
Michel Encinosa